Dental Implants – Southlake, TX
Restore the Function
& Feeling of Your Smile
Dental implants are one of the most popular solutions to tooth loss nowadays because they offer so many benefits, like a 95% success rate after 10 years of placement, a natural look and feel, and countless more. At Huckabee Dental, our general dentists and board-certified oral and maxillofacial surgeon work together to custom-tailor each dental implant treatment to our patient's unique needs. The best part is, we can complete the entire process for tooth replacement, using dental implants in our Southlake, TX dental office!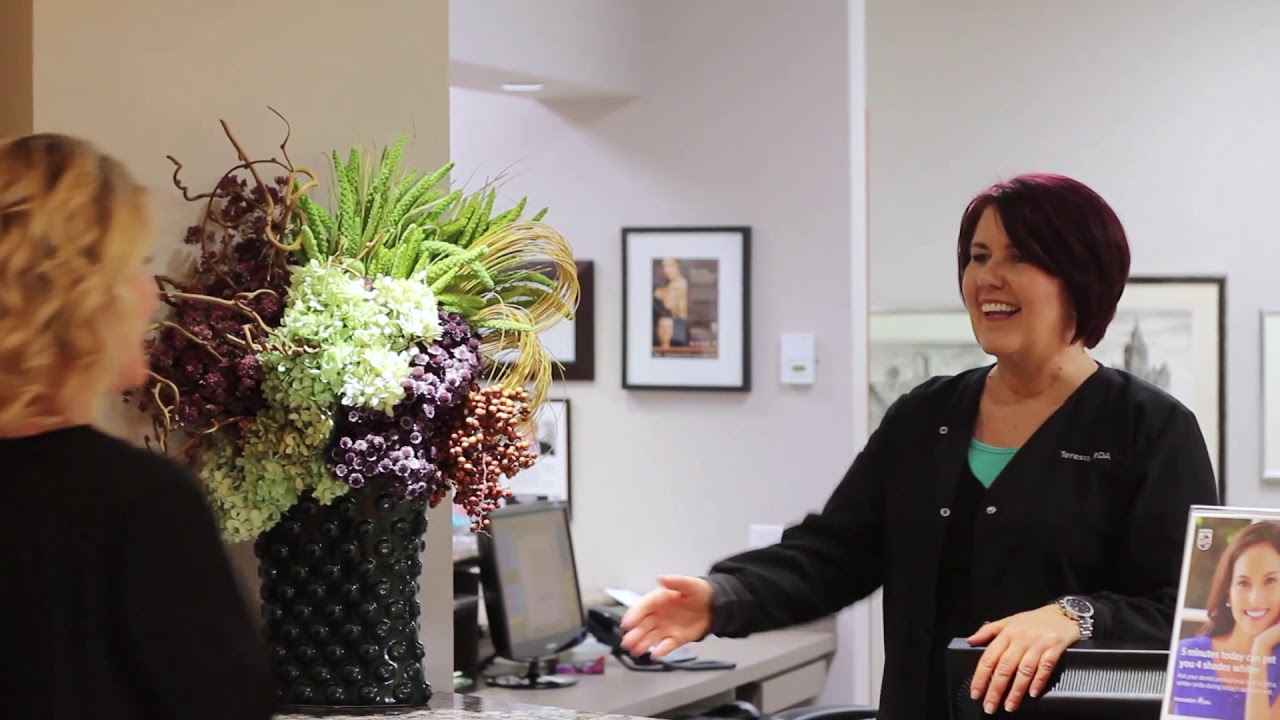 Why Choose Huckabee Dental for
Dental Implants?
Board-Certified Oral &
Maxillofacial Surgeon
We Offer
Additional Financing
Complete Dental Implant
Treatment In-House
What are
Dental Implants?
Dental implants themselves are small, titanium posts that are surgically placed below the gumline and into the jawbone. Due to their biocompatible nature, they're able to organically fuse with the bone through a process called osseointegration, allowing them to function like your natural tooth roots once did. This keeps the bone from deteriorating over time and allows you to maintain your facial structure. Once this process is completed, we'll attach customized prosthetics to the implant post to complete your smile.
The 4-Step Dental
Implant Process
Initial Consultation. During your consultation, we'll discuss any goals you have for the treatment, your medical history, and conduct a thorough examination of your mouth. These findings will allow us to determine if you're a good candidate for dental implants in Southlake and help us create your customized treatment timeline.
Dental Implant Surgery. Our board-certified oral and maxillofacial surgeon is able to place the implants in-house, so you'll be able to work with the same team you started with throughout the entire process.
Osseointegration & Abutment Placement. After your implants are placed, they'll undergo the process of osseointegration, which can take between three and six months. Then, we'll call you back in to place small, metal connector pieces called abutments to the tops of your implants.
Attaching the Permanent Restoration. After your permanent restoration has been crafted by our dental laboratory, we'll have you come back into the dental office to secure it to your implants and complete your treatment.
Benefits of
Dental Implants
Dental implants offer a wide variety of advantages that distinguish them from traditional restorative treatments. Some of the reasons why patients choose this treatment over other alternatives include:
A treatment success rate of 95% after 10 years of placement
Lifespan of 35+ years with proper maintenance
Easy to care for
Prevent deterioration of jawbone
Preserve facial structure and prevent sunken cheeks
Natural looking and feeling replacement teeth
Can replace one, several, or all teeth
Enhances chewing and speaking abilities
Who Dental Implants
Can Help
Dental implants are an excellent option for many patients, although, in order to find out for sure if you're a good candidate, you'll need to attend a consultation with our team. They'll take X-rays of your mouth and make a treatment plan to help restore the function and complete appearance of your smile. In some cases, patients may not be ready for surgery right away, but our in-house oral surgeon can help get them there by providing preparatory procedures like bone grafting. After healing, we can then restore the smile with any of the following processes, depending on the unique tooth loss situation.
Missing Single Tooth
For a single missing tooth, we can place one dental implant in the gap in the smile, below the gumline. Once it has fused with the jawbone, we can attach the abutment, which will hold a custom-crafted dental crown securely in place.
Missing Multiple Teeth
Instead of needing to alter your surrounding teeth to place a traditional dental bridge, we can attach the prosthetic to two dental implants placed at either side of the gap in your smile. This method can restore two or more consecutive missing teeth.
Missing All of Your Teeth
If you're missing all of your teeth, we can secure a complete denture to anywhere from four to eight dental implants strategically placed along your arch. We can also secure a partial denture with dental implants.
Understanding the Cost
of Dental Implants
Each dental implant treatment that we conduct here at Huckabee Dental is customized to fit our individual patient's needs. Before we're able to provide you with a cost estimate, we'll need to examine your mouth. Based on our findings at the initial consultation, we'll be able to determine how many dental implants you need to have placed, what type of restoration you need, and other cost-determining details. If you'd like, we can discuss dental insurance coverage and additional financing options with you as well at this visit.
Maintaining & Caring for Your Dental Implants
While dentures require a time-consuming and sometimes frustrating daily cleaning routine, taking care of dental implants is actually quite simple. In fact, it's not much different from maintaining natural teeth. Because of how easy day-to-day dental implant care in Southlake is, your new smile is likely to last for the next several decades or possibly even for the rest of your life! Below, you can find five of the most important steps for ensuring your dental implants stand the test of time.
Prioritize Your Oral Hygiene
Dental implants might not be able to get cavities, but that doesn't mean you can slack on your oral hygiene. If plaque isn't cleared away on a daily basis, you could develop a bacterial infection in your gums that damages the tissues holding your implants in place. Gum disease is actually the leading cause of dental implant failure. Luckily, it's fairly easy to prevent, as dental implants in Southlake can be cleaned just like natural teeth. Remember to brush for two full minutes twice a day and floss at least once daily to target bacteria hiding in the areas your toothbrush can't reach.
Eat a Healthy Diet
Vitamin C and calcium encourage healthy gums and a strong jawbone, respectively, so be sure to add these vital nutrients to your diet. This can be done by eating plenty of fruits, vegetables, and dairy products. You can still enjoy ice cream and potato chips every once in a while, but eating too many sugary or starchy foods can increase the growth of harmful bacteria in the mouth. This could spell disaster for your implants. Moderation is key!
Quit Harmful Habits
Crunching ice, biting your fingernails, or chewing on pencils are all examples of habits that can take a serious toll on natural teeth as well as dental implants. Breaking these habits can be difficult, but it's worth the effort to keep your implants in great condition for as long as possible. If you're having trouble, don't be afraid to ask your implant dentist in Southlake for tips! They might suggest that whenever you feel the compulsion to chew something inedible, pop a piece of sugarless chewing gum in your mouth instead.
Protect Your Dental Implants
Some people clench and grind their teeth while they sleep, so they're unable to consciously stop it. To protect your teeth and implants from the pressure caused by grinding, we can fit you with a custom nightguard. Simply wear it to bed in order to shield your pearly whites from damage. On a similar note, you should protect your smile whenever you play sports by wearing an athletic mouthguard. This appliance cushions the impact of blows to the face, lessening the risk of injury to your mouth and jaw.
Schedule Regular Dental Checkups
No matter how many natural teeth you have left, it's still essential to attend a dental checkup and cleaning every six months. At each of these visits, our team will take a close look at your implants for any signs of wear and tear. If we detect any issues, we can treat them early on, potentially saving your implants from failure.
Dental Implant FAQs
If you want to restore the function and feeling of your smile, there's simply no better solution than dental implants in Southlake! That being said, it's only natural to have some questions about this revolutionary option before you're ready to commit to a treatment plan. We want you to be able to make a confident and well-informed decision, which is why we've gathered some of the most common questions about dental implants we get below! As always, if you would like to learn more or schedule your next appointment, don't hesitate to give us a call.
Does Getting Dental Implants Hurt?
At first, hearing that getting dental implants requires minor oral surgery may sound somewhat daunting. However, when you put your smile in the hands of our in-house, board-certified oral and maxillofacial surgeon, you can rest easy knowing that you'll be well taken care of. We'll thoroughly numb your mouth before your dental implant surgery, and we'll also likely recommend sedation dentistry to help you feel as calm and comfortable as possible. Overall, most patients are pleasantly surprised by how easy and virtually pain-free dental implant placement is.
Are Dental Implants Worth the Extra Money?
It's no secret that dental implants initially cost a lot more than traditional tooth replacement options like dentures and dental bridges. However, when you compare their costs over time, dental implants often become the more cost-effective choice! Dentures and dental bridges only last five to ten years until they need to be replaced, whereas dental implants have the potential to last a lifetime. Not only will dental implants save you thousands of dollars in replacements alone over the years, but they'll lower the overall cost of caring for your smile by preventing a multitude of oral health problems.
How Long Do Dental Implants Last?
Thanks to their strong foundation in your jawbone, dental implants typically last much longer than other forms of tooth replacement. Dental implants stimulate circulation in the jawbone, which prevents deterioration. Since dentures and dental bridges do not provide this feature, the jawbone will naturally change shape over time and cause the restoration to lose its fit. On average, you'll need to have a denture or dental bridge replaced every five to ten years. Meanwhile, dental implants can easily last 30 years because of their unique placement. In fact, with the right care, you can easily expect your dental implants to last a lifetime!
Am I Too Young for Dental Implants?
Dental implants are not recommended for patients who are younger than 18 years old. This is because up until this point in life, the jawbone is still growing and developing. The jawbone needs to be fully formed and strong in order to successfully support dental implants! If your teen has knocked out a permanent tooth, they may need a space maintainer or a dental bridge to restore their smile until they're old enough to get dental implants.